The Datek D6003B field bus receiver has been designed to operate industrial and mobile applications safely. The receiver is suitable for all kinds of applications where the Profibus DP-V1 or various types of CAN-bus are used. Field bus technology involves the serial transmission of information to a PLC, as opposed to parallel transmission using separate outputs.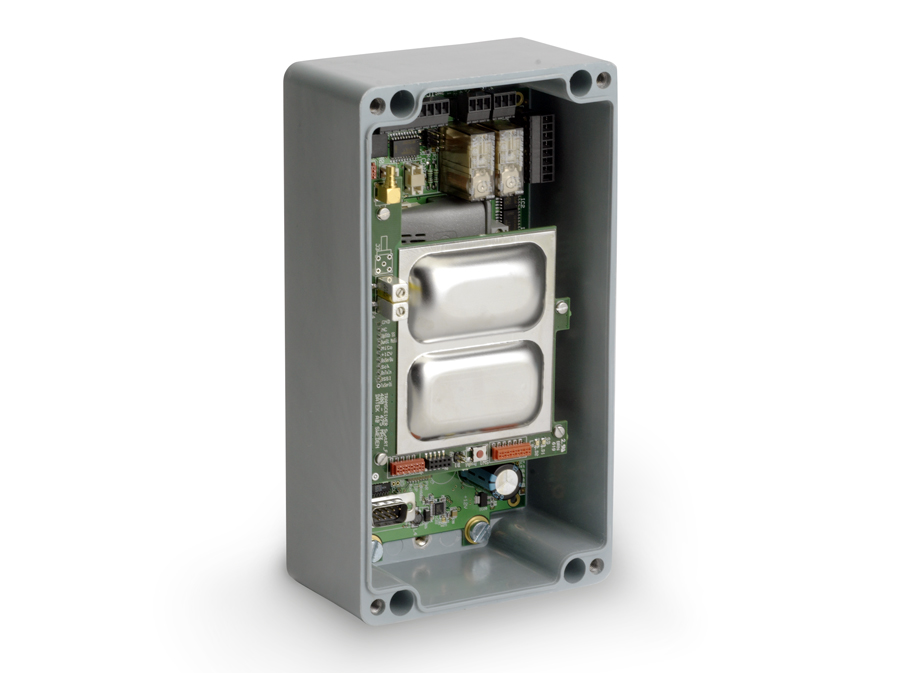 Comprehensive safety
Datek uses synchronous data transmis- sion, which means that each bit of data is checked very carefully. Even the smallest deviation from the norm is detected, and then the entire data packet that has been received is rejected. Each system has a unique ID code. If the transmitter's ID code does not match the receiver's, radio communication will never be established.
Both the protocol and its checksum are digitally verified by dual processors using different software. This provides what is known as a redundancy check.
If the processors interpret the protocol differently, they immediately shut down all outputs. Such safety features as digitally verified transmission and redundancy checking are just two of the innovations which Datek has pioneered in the area of radio remote control. Since its founding in 1979 Datek has focused on developing safe radio remote controls, something we still do and will continue to do!
Radio transmission
The receiver's frequency is adjusted to the required frequency band. For frequency-shift transmitters, the receiver scans the frequency band until it finds the relevant transmitter with the correct ID code and protocol.
Safe control of industrial and mobile applications

Communicates with the field bus variants Profibus DP-V1 and various types of CAN-bus

Can be customised for various applications and according to preference

Easy to install and maintain

The use of a unique digital protocol and verification by double processors ensures safety

Designed for challenging environments and reliable operation. The receiver complies with protection class IP65 and is resistant to chemicals, cold, heat and humidity
Feedback
The receivers in this series can be provided with two-way communication. Feedback to the transmitter unit is obtained through semi-duplex, which means that only one frequency is utilised for both control signals to the receiver and feedback data. This is advantageous if availability of frequencies is limited, as you are only taking up one frequency instead of two.
Enclosure
The receiver comes in a robust fibreglass enclosure which complies with protection class IP65.
Recommended transmitters
• D2801 MIDI
• D2801 MIDI Extended
• D2012 Hand-Held Transmitter
| | |
| --- | --- |
| GENERAL INFORMATION | |
| Dimensions | 220 x 120 x 90 mm |
| Temperature range | -25° – 70°C |
| Protection class | IP65 |
| | |
| RADIO TRANSMISSION | |
| Frequency | 406 - 472 MHz |
| | |
| POWER SUPPLY | |
| Supply voltage | 24 VDC |
| | |
| FIELD BUSSES | |
| Datek CAN | |
| CANopen | |
| Sauer-Danfoss +1 | |
| OEM adjustments | |
| Profibus DP-V1 | |
| | |
| OUTPUTS | |
| | |
| Digital outputs | 7 |
| Field bus | Limited by the transmitter |
| | |
| FEEDBACK | |
| Digital inputs | 6 |
| Field bus | Analogue/Digital |
| Alarm messages | 65 536 |