The Datek MIDI series has been designed for safe radio remote control in demanding industrial environments and manages everything from standard applications to advanced specialised equipment. Choose the handy MIDI or the larger MIDI Extended, depending on how many control levers and functions you need.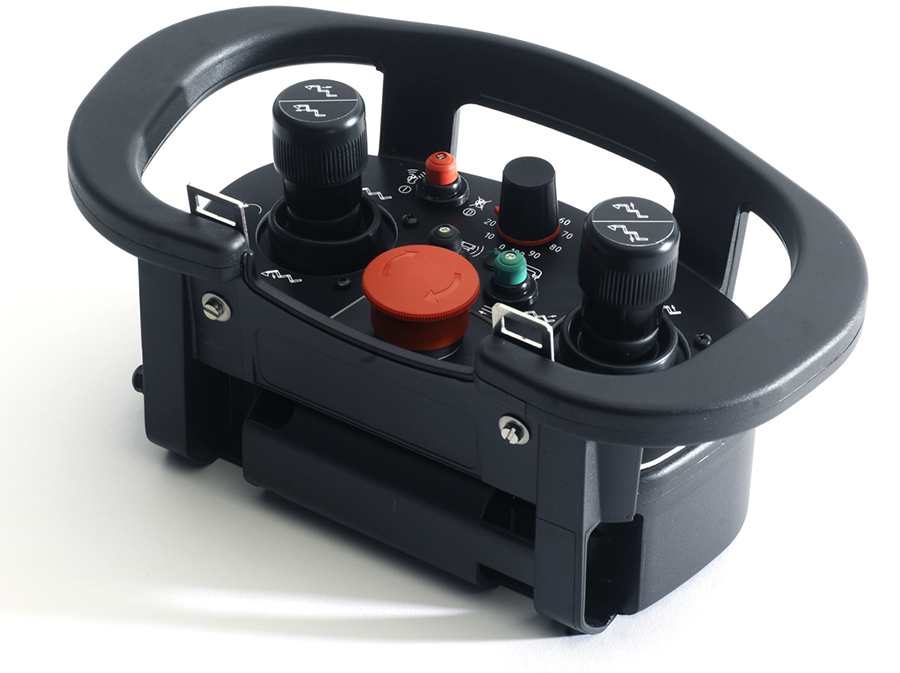 Flexible and user-friendly
The front panel of the transmitter can be adapted according to application and preference, using appropriate control levers and change-over switches. The front panel is laser-engraved with the symbols, text and types of logo you prefer. Feedback information from the receiver to the transmitter is shown on a graphic display and/or LEDs. The housing, which is made of impact-resistant plastic, is ergonomically designed with proper handles and the top part comes in a black, red or blue.
Handy online programming
This versatile transmitter can be programmed and calibrated online to ensure optimal control of stepless applications. Calibrated values, such as initial, maximum and micro speeds, are stored in three different memory banks. By means of a change-over switch, the operator can access these to select a particular setting or suitable operating properties.
Panel design – Choose the layout, controls, symbols and text
With Datek you can get your very own panel design. You choose what type of and how many controls, switches and indicators you need. We will engrave your own text and symbols on the panel. You can also choose the colour and put your own logo on the transmitter to match your company profile.
Safe simultaneous and relay operations
With simultaneous operations a transmitter can take control of up to three receivers at the same time. This makes it possible to use one transmitter to control three receivers simultaneously, making simultaneous lifting, for example, easy. It is also possible to conduct relay operations between up to three transmitters where control is passed from one transmitter to another. Handovers may be appropriate in the case of long transfers, where you have less control over the whole area of operation with just one transmitter. Datek's simultaneous and relay operating ensures that only one transmitter at a time can have control of the relevant receiver. Operators have to make an active choice to transfer control. This is done by either relinquishing control or taking control.
Two-way communication
Information can be sent back to the transmitter at the same frequency as the control command to the receiver, by using semi- duplex technology. The information is presented on a graphic display and/or LEDs. On the display images, text and figures are presented in a versatile format and sequence.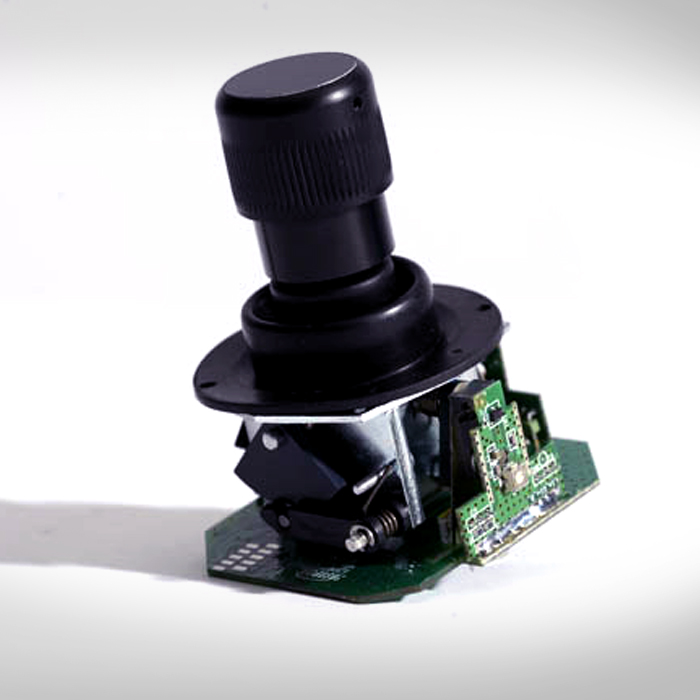 Robust and ergonomically designed joysticks made of tempered steel with low static stress on joints.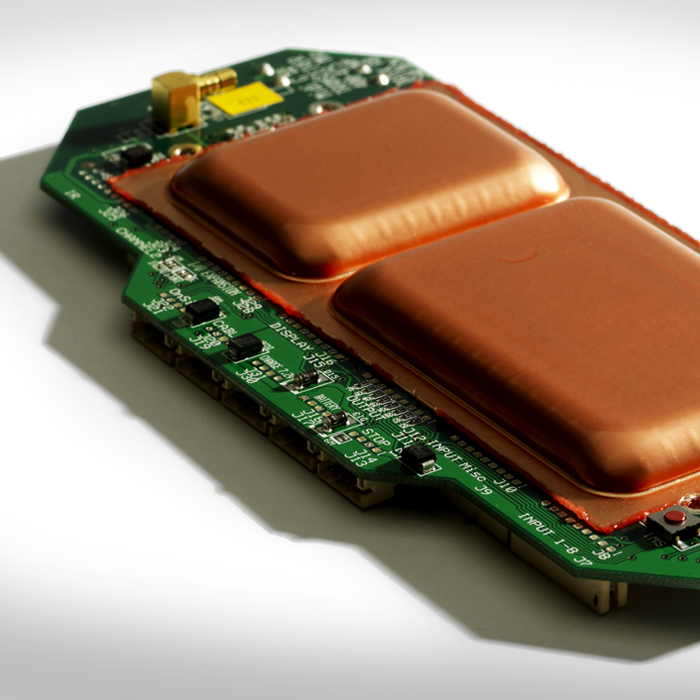 Encapsulated circuit board. The electronics are hermetically sealed and protected against all outside influences.
Sophisticated technology and software provides superior safety.
A flexible graphic display provides good feedback to the user.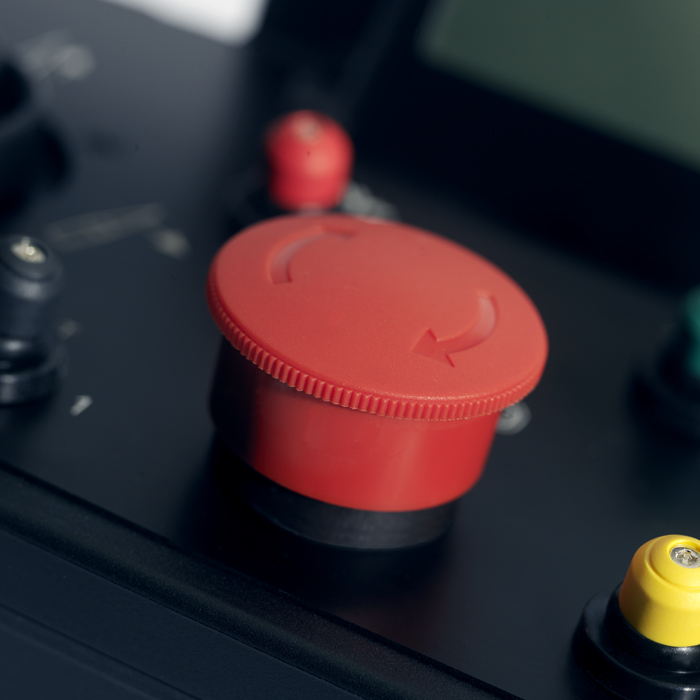 Activation of the stop button puts the system in a safe stop mode within 0.5 seconds.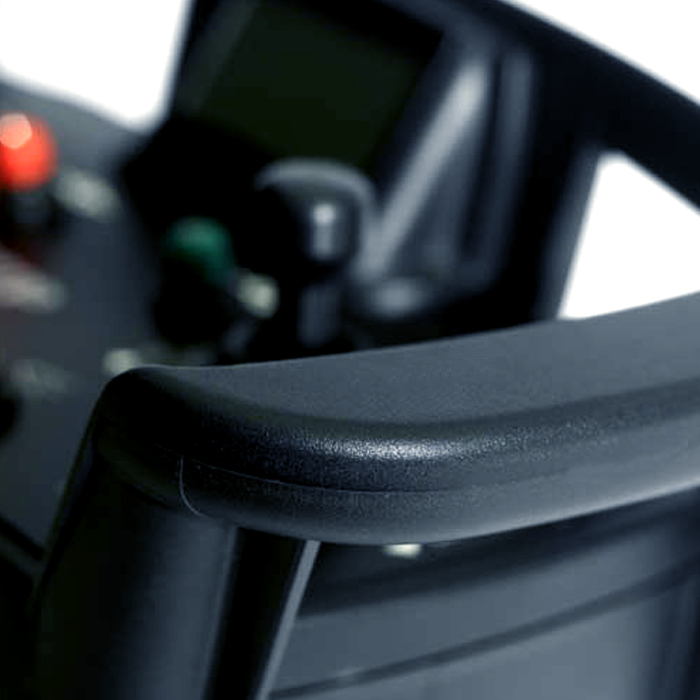 The case is impact resistant and withstands UV-light, chemicals, heat/cold and dampness. Ergonomic design makes it comfortable and grip-friendly even when using working gloves.
General safety
The transmitter is equipped with a built-in start control, preventing start-up in the event of safety-critical errors. Sound and light signals let the user know what has caused the error. The transmitter continuously sends information to the receiver using a digitally verified protocol unique to Datek. In the event of the smallest error arising, the radio signal fails, or if the stop button is activated the receiver immediately (<0.5 seconds) reverts to a safe stop mode. Each Datek transmitter is equipped with a unique ID code, which means that transmitters can only activate its own receiver. No other transmitter or product or can ever activate a Datek receiver.
Quality control levers with feel
Datek's control levers are provided with well-defined neutral positions and speed steps, or are designed for stepless control (128 levels for stepless control). The control levers are made of hardened steel, have a superior life expectancy and quality, and have been designed to give low static resistance to prevent damage from wear and tear on joints. The control levers come in many different designs to suit different types of applications and to cater for operators' individual preferences.
The D2801 MIDI Extended
The MIDI Extended has the same basic functions as the MIDI, but the transmitter has a larger housing, with space for more control levers, paddles and switches. The panel has been properly enlarged for controls, markings and text, and has space for up to three control levers, seven paddles and also a large number of toggle switches and LEDs. The MIDI Extended can handle up to 60 control functions simultaneously, and a large battery provides up to 30 hours continuous operation.
Backwards compatibility
The MIDI series is backwards compatible and can substitute all of Datek's older transmitter models. This means that you can update an older system using a new transmitter without making modifications to the radio receiver and relay box. Datek products are generally backwards compatible both in terms of hardware and software, so that we can give you the best possible service.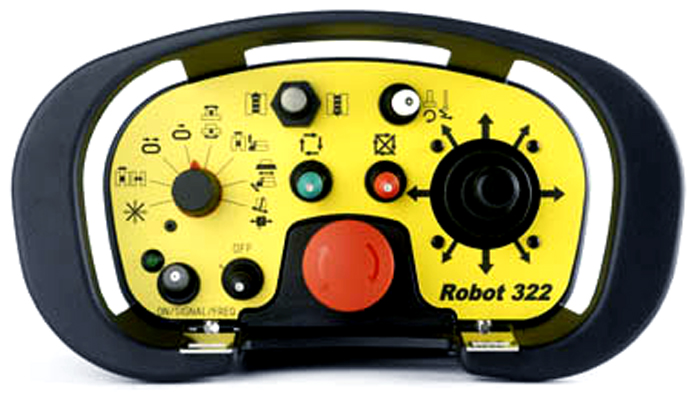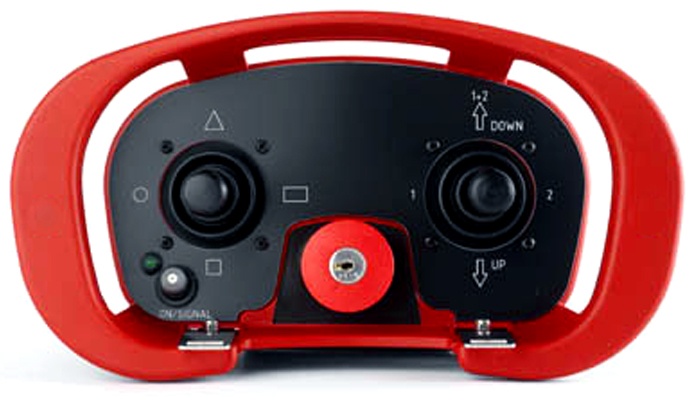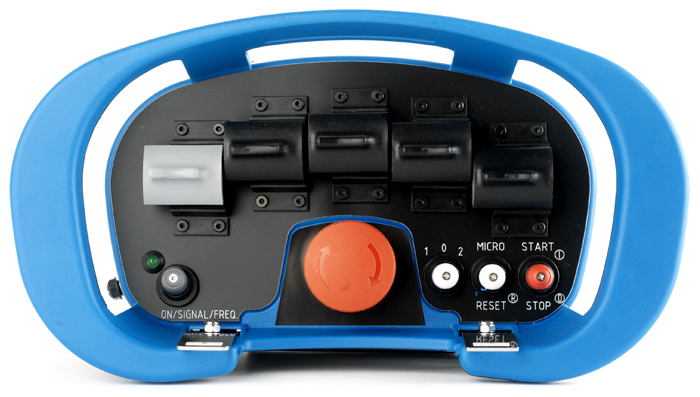 | | |
| --- | --- |
| GENERAL INFORMATION | |
| Dimensions | 120 x 280 x 150 mm |
| Weight | 1.0 – 1.5 kg with battery |
| Temperature range | -25° – 70°C |
| Protection class | IP65 |
| | |
| RADIOTRANSMISSION | |
| Frequency | 406 - 472 MHz |
| Output power | 1 - 100 mW (std 10 mW) |
| Range | > 100 m |
| | |
| CABLE CONTROL | |
| Technology | 2-wire |
| Length | ≤200 metres (standard 10 m) |
| | |
| POWER SUPPLY | |
| Battery | 4,8 VDC NiMH |
| Effective operating time | <14 hours continual operation |
| Charging time | 2.5 hours |
| | |
| CONTROL FUNCTIONS | |
| Proportional functions | 8 |
| Digital functions | 16 |
| | |
| FEEDBACK | |
| Technology | Semi-duplex |
| Graphic display | 128 x 64 pixels / 60 x 30 mm |
| LEDs | 16 |
| | |
| JOYSTICKS | |
| Number | 0 - 2 |
| Axles | Y, X/Y, X/Y/Z |
| Speed steps | 1, 2, 3, 4, 5, 6 or stepless |